D series butterfly valve-Turbine Inlet Butterfly Valve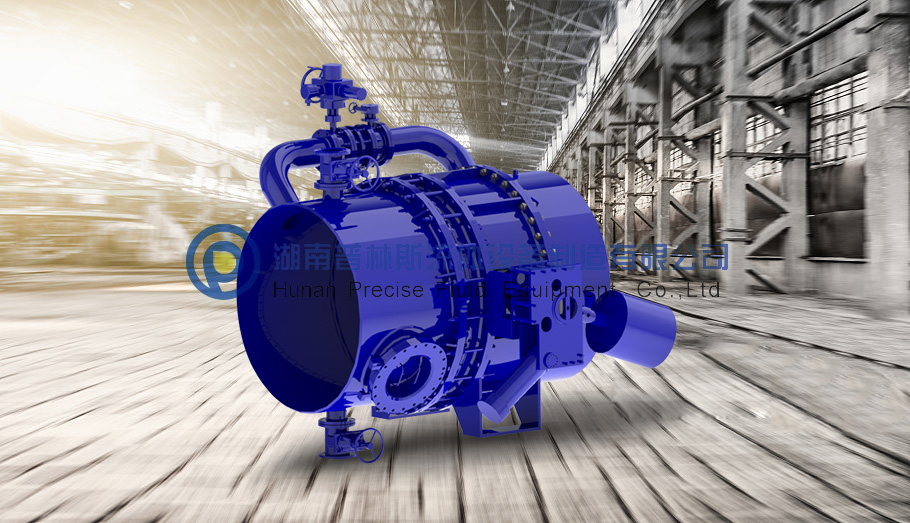 Features and Applications
PRECISE Hydraulic controlled butterfly valve is a kind of intelligent and advanced hydroturbine outlet control equipment which is improved and perfected on the basis of importing advanced technology.
The valve has the following technical characteristics:
☆Switching on by hydraulic and switching off by heavy hammer. The rated oil pressure of hydraulic cylinders can be 6.3MPa and 16MPa.
☆Energy storage of gravity hammer. Reliable on switching off the valve.
☆With double-eccentric structure for valve plate.
☆Simple hydraulic system with few hydraulic components. Safe and reliable.
☆Machinary ,electrical and hydraulic pressure all in one. Intelligent and reliable.
☆Using local, remote and automatic control operation through Automatic electrical control box to meet the requirements of "Unattended, Few people attended".
☆With soft rubber sealing, hard metal sealing, and double rubber-metal sealing as options.The product is widely used in small and medium-sized hydropower and hydroturbine's inlet, which run automatically according to the procedure. It is used for connectivity and cutting off water and preventing runaway hydroturbine in case of water hammer.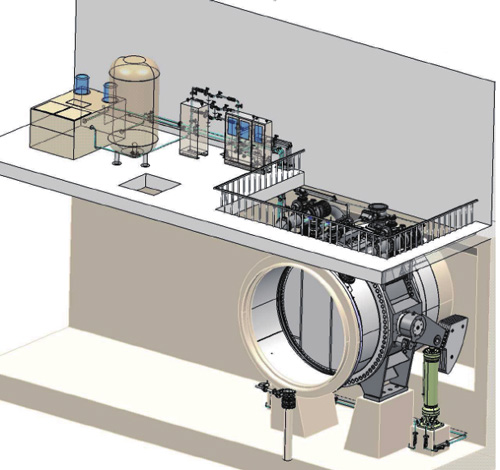 Technical and Performance Parameters
1.Technical Parameters
Nominal Diameter
mm
Nominal Pressure
MPa
Test Pressure
Applied Temperature
℃
Applied Medium
Valve Body
MPa
Seal
MPa
300~3000
0.25~4.0
1.5×Homax
Hmax
≤ 80
Water, Sea water, Water included Silt and etc.
Note: 1. 1.0MPa=10.2Kgf/cm 2;2. Homax,maximum over pressure head, Hmax, maximum net head.;3.The test pressure can be confirmed additionally in the technical agreement or contract.
2.Performance Parameters
Nominal Diameter
300≤DN<900
900≤DN≤2400
2500≤DN≤3000
Time of Valve Opening (adjustable) s
20~60
30~60
50~120
Time of Valve Closing (adjustable) s
20~60
45~120
60~150
Maxinum Pressure of Hydraulic System

6.3 or 16.0(Remark1)
16.0
16.0
Keeping Pressure of Hydraulic System
3.5~5.5 or 7.0~10.0(Remark1)
7.5~10.0
7.5~10.0
Leakage Rate
Grade A GB/T13927-92 or satisfied the section 5.3 of GB/T14478-93
Flow Resistance Coefficient
The minimum flow resistance coefficient is 0.10
Note: 1. The maximum pressure and keeping pressure of hydraulic system is selected according to the head of hydroelectric station.2. The time of valve opening will be is adjustable lightly according to the head of hydroelectric station.
Material of Main Components
| | |
| --- | --- |
| Items | Material |
| Valve Body | Carbon Steel or Low Alloy Structural Steel (GB/T3274) |
| Valve Disc | Carbon Steel or Low Alloy Structural Steel (GB/T3274) |
| Valve Shaft | Carbon Steel (Surface Treatment for Anticorrosion GB/T699)、Stainless Steel(GB/T1220) |
| Valve Body Seal Ring | Stainless Steel (GB/T4237) |
| Valve Disc Seal Ring | Top Quality Rubber or Stainless Steel |
Product Technical Standards
Product Standard
Pressure Test Standard
Flange Standard
Length of Face-to-face
GB/T14478
GB/T14478 or GB/T13927
Cast Iron Flanges
GB/T17241
GB12221 or according to users'
request
Steel Flanges
GB/T9115
Note: When other related standards were used, they should be noted in the contract or the technical agreement.
Overall Dimensions of Turbine Inlet Butterfly Valve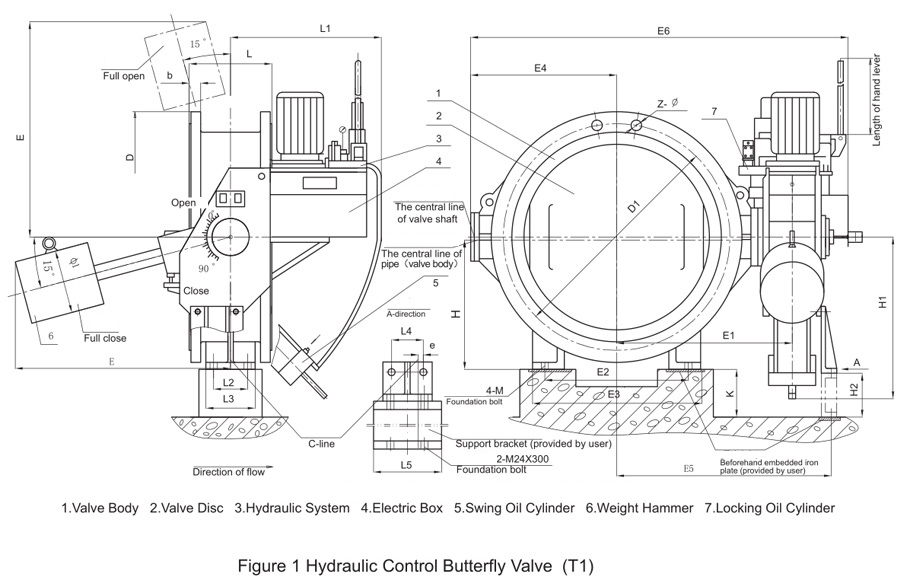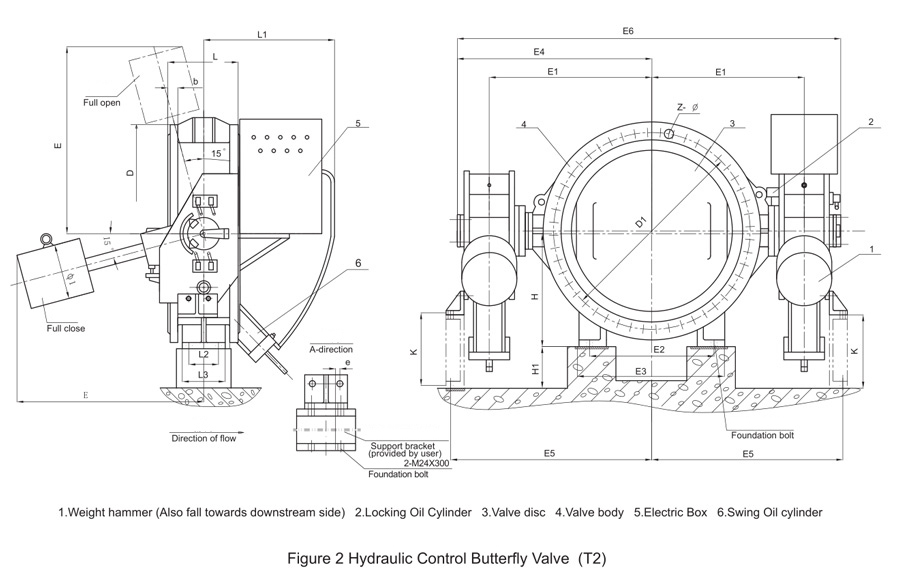 Specification and Installation Dimensions of Turbine lnlet Butterfly Valve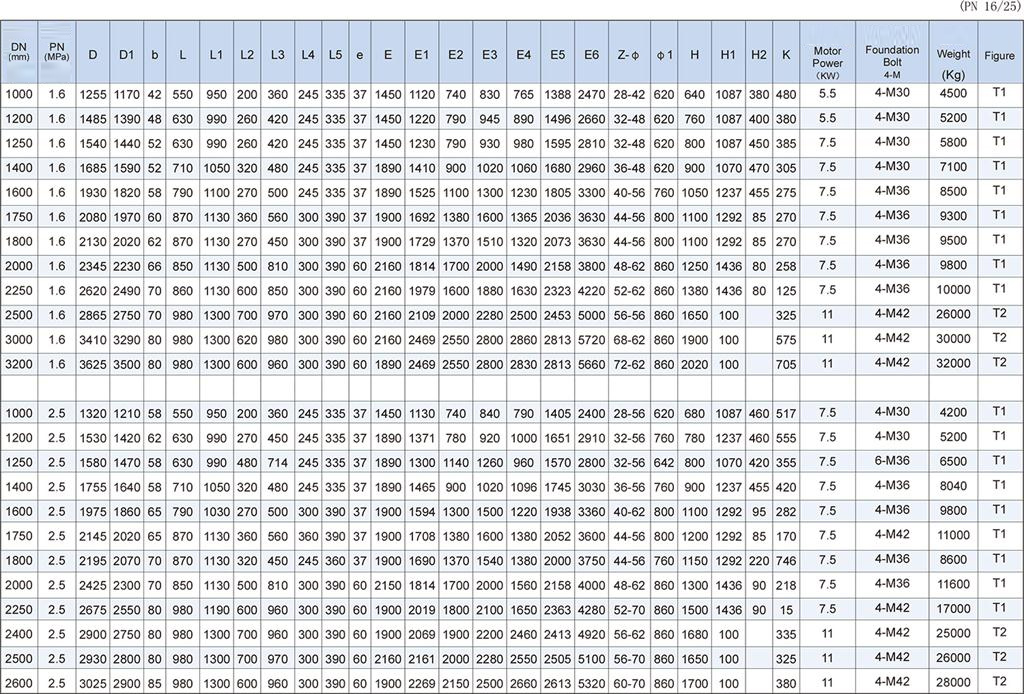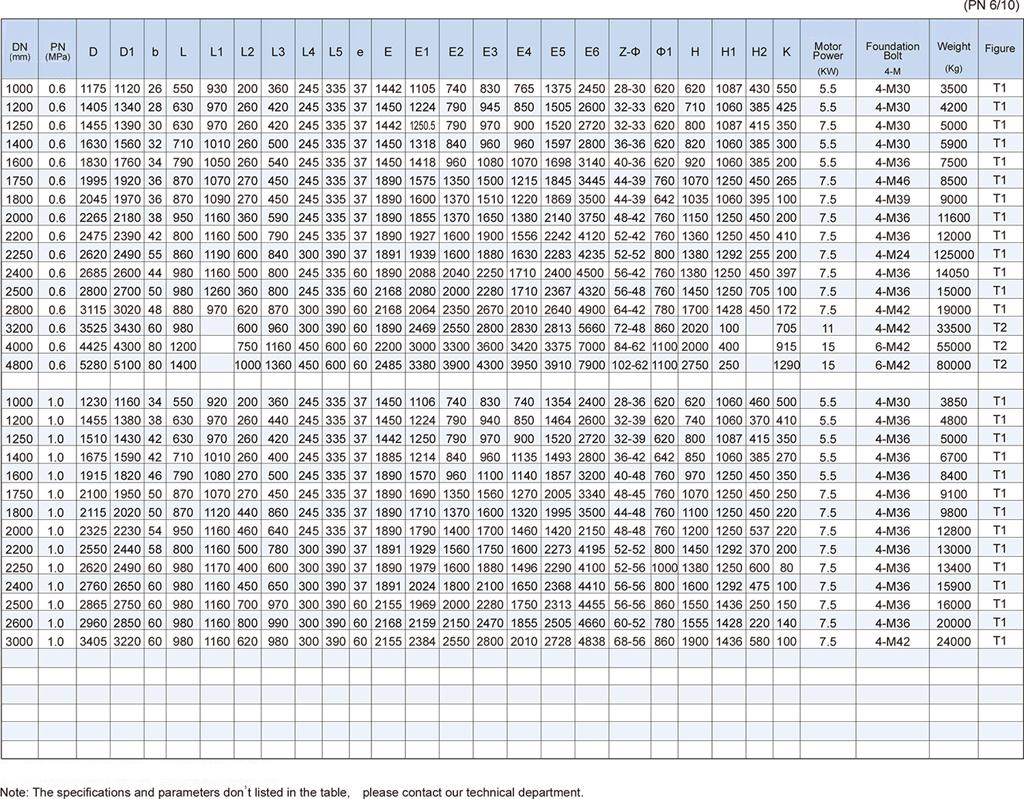 Explanation on Product Type

① Type code:D10, turbine inlet butterfly valve
② Drive mode code:HY - hydraulic drive (accumulator tank),HW - hydraulic drive (weight hammer)
③ Nominal diameter DN:Unit mm
④ Sealing code: X-rubber; H-stainless steel; S-double seal
⑤ Arrangement style code:Single weight hammer :Type A; Type B; Type C; Type D Others omit.
⑥ Nominal pressure code:10 times of the nominal pressure Bar,Unit Bar (10xMPa)
⑦ Characteristic code: A1~A9;B1~B9......
Type Illustration
Nominal diameter 2500mm, nominal pressure 1.6MPa, rubber sealing and single weight hammer inlet butterfly valve, type, D10HW2500XA-16A1.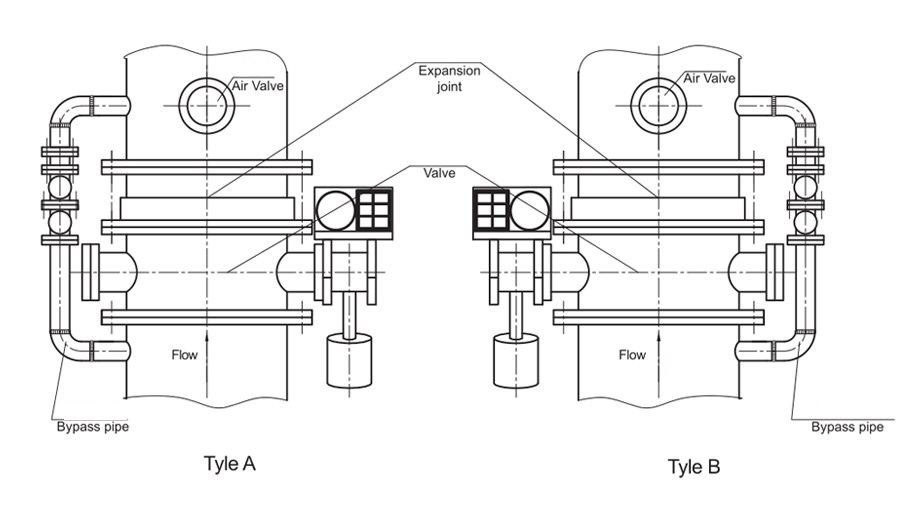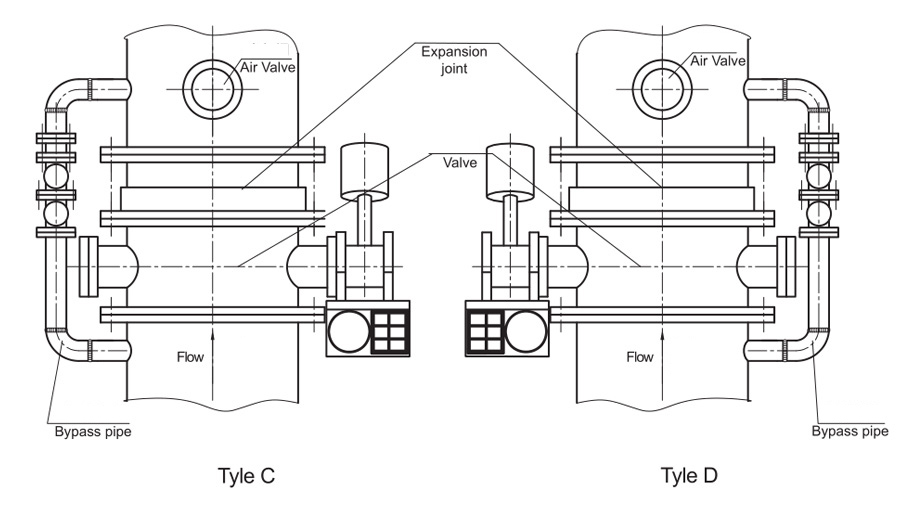 Installment and Arrangement Styles of Hydraulic Butterfly Valve
Description for Order
In order to your convenience, please mark out product name, type and specification, product technical and performance parameters, product technical standards, material and standards of main components, equipment set included expansion joint, upstream and downstream connecting pipe, type and size of bypass valve and air valve, installation type and other special requirement. According to your requirement, we can also provide other wearing parts such as seal ring, packing combination ring and so on.


Inquiry