Q Series-Globe valve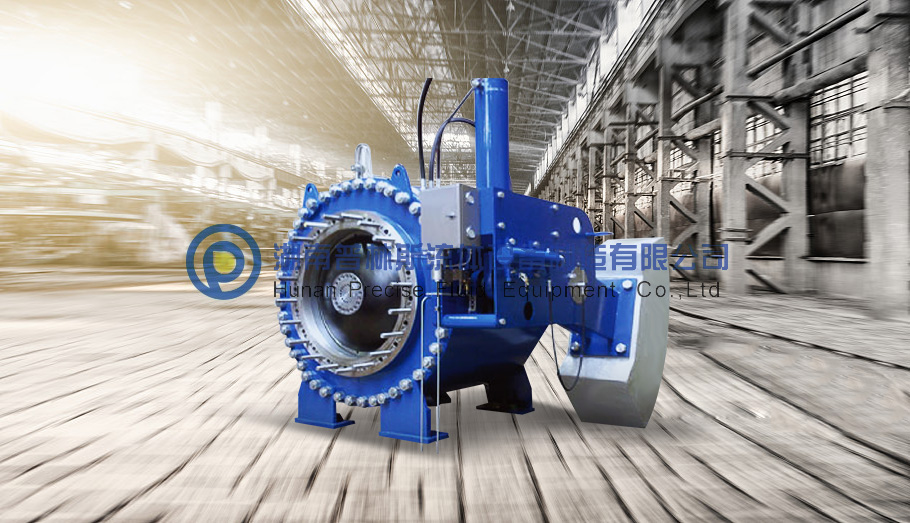 Features and Applications
The Hydraulic Controlled Spherical Valve is usually used in hydropower station(or pump storage power plant)as inlet valve when the net water head is more than 300m. It is installed at inlet of the spiral case of hydraulic turbine. Its main functions include as follows:
1.To provide safe working conditions for examination and maintenance.
2.To reduce water leakage during set stopping period and reduce necessary starting time during starting period.
3.To prevent enlargement of accidents caused by the set's running away.
The Hydraulic Controlled Spherical Valve has maintenance seal in upstream and working seal in downstream. Maintenance seal is manual controlled, working seal is automatically controlled. Movable sealing ring of maintenance seal and working seal can be moved along the pipeline direction to form sealing with the fixed ring on the plug. Sealing pairs is friction-free in the operation. The valve has small driving torque,long life-span and best safety and reliability.
The sealing pairs are well machined with stainless steel. The maintenance seal and working seal can be replaced without dismantling main body of valve.
The Sealing operating medium of movable sealing ring is the upstream pressured water. The maintenance seal is set with manual mechanical locking device, which acts on movable sealing ring of maintenance seal through equally distributed wedge slide, to ensure the reliability of the seal when the control pressure disappears.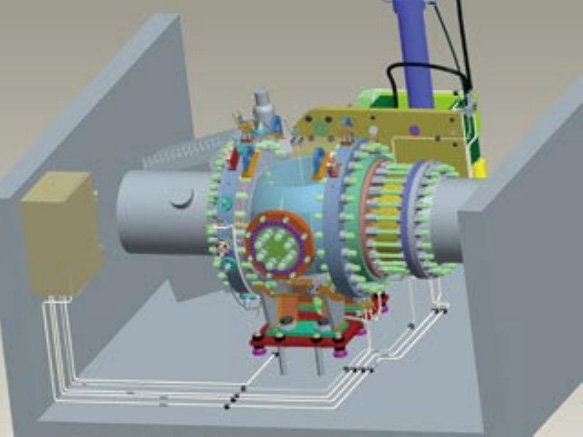 The Hydraulic Controlled Spherical Valve has mechanical locking device with hydraulic control system to lock the turning parts of valve. The tuning parts can be automatically locked at the close position.The manual lock for maintenance is also provided. When lock device operates, any mistaken dictation can't damage locking devices and other equipment.
The Hydraulic Controlled Spherical Valve has opening position indicator, and inputting and quitting indicators of maintenance seal and working seal.
The valve body is assembled by two parts. It is fabricated with alloy steel casting or steel plate. Two parts are connected by pretension bolts.
| | |
| --- | --- |
| | |
| Two parts of valve body connection interfaces go through horizontal axes of the valve turning. Valve shafts and plug are whole structure. | Valve body is made of asymmetric parts. The connection interface is at the downstream of axes. Valve shafts and plug are connected by bolts. |
Valve shaft is assembled in sliding bearing sleeve. The bearing with high load capacity is self-lubricating compounding material and has small friction factor.
The stem seal between valve shaft and body is rubber and assembled in cover outside the body. So it can be replaced without dismantling main parts and draining off the penstock.
The sliding bearing sleeve has rubber sealing structure at both ends for prevention of solid particles such as silt
infiltration into bearings.Valve switching operation is one (or two) double-acting oil servomotor (oil cylinder) driven by one (or two) lever arm.Lever arm and valve shaft connecting through key. The oil servomotor (oil cylinder) anchoring both sides of the concrete foundation of the ball valve.
The pressure oil operating system adopts pressure oil storing tank or harmmer. The valve can realize open, closing, closing by dynamic water to ensure safety of set equipments behind valve in case of emergency (even if power supply fails).
The series of Hydraulic controlled Spherical Valve is adopted advanced design theory and methods. We use scientific theoretical calculations and advanced analysis software to ensure that various parameters of product performance accord with project's requirement, ensure that the product is reliable and safely whatever work conditions.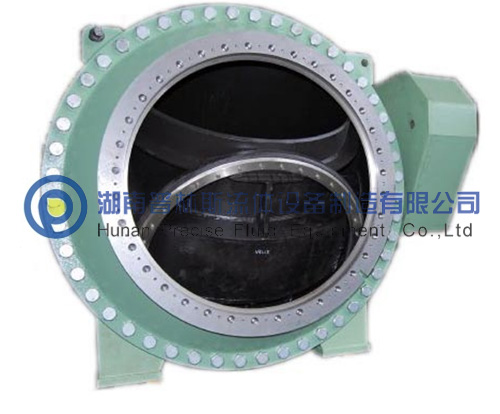 Technical and Performance Parameters
1.Technical Parameters
Nominal Diameter
mm
Nominal Pressure
MPa
Test Pressure MPa
Applied Temperature
℃
Applied Medium
Hydrostatic Test
Leakage Test
300~1500
3.0~10.0
3.75+1.25×(PN-2.5) or 3.75+1.25×(0.01×Hmax-2.5)
0.01×Homax
≤ 80
Water, Sea water, Water included Silt and etc.
Note: 1. Hmax, maximum over pressure head, m. Homax, maximum static head, m.
2. The test pressure can be confirmed additionally in the technical agreement or contract
2. Performance Parameters
| | |
| --- | --- |
| Time of Valve Opening (adjustable) s | 60~120 |
| Time of Valve Closing (adjustable) s | 60~120 |
| Maximum Pressure of Hydraulic System (MPa) | 16.0 |
| Leakage Rate | Conform to the section 5.3 of GB/T14478 |
| Flow Resistance Coefficient | 0.08 |
Material of Main Components
| | |
| --- | --- |
| Items | Material |
| Body | ZG20SiMn or Q345 GB/T1591 |
| Plug | ZG20SiMn or Q345 GB/T1591 |
| Valve Shaft | ZG20SiMn ,Carbon Steel (Surface Treatment for Anticorrosion) or Stainless Steel |
| Movable Sealing Ring | Stainless Steel |
| Fixed Sealing Ring | Stainless Steel |
Product Technical Standards
| | |
| --- | --- |
| Product Standard | Pressure Test Standard |
| GB/T14478 | GB/T14478 |
Explanation on Product Type

① Type code:Q10, turbine inlet spherical valve
② Drive mode code:HY - hydraulic drive (accumulator tank),HW - hydraulic drive (weight hammer)
③ Nominal diameter DN:Unit mm
④ Sealing code: X-rubber; H-stainless steel; S-double seal
⑤ Arrangement style code:Single driving device :Type A; Type B; Type C; Type D Others omit.
⑥ Nominal pressure code:10 times of the nominalpressure Bar,Unit Bar(10×MPa)
⑦ Characteristic code: A1~A9;B1~B9......
Type illustration:
The nominal diameter of the Hydraulic Controlled Spherical Valves is 1000mm and its maximum static head is 650m. Diven by the hydraulic oil, energy storage of gravity hammer. Type illustration is Q10HW1000SA-64A1.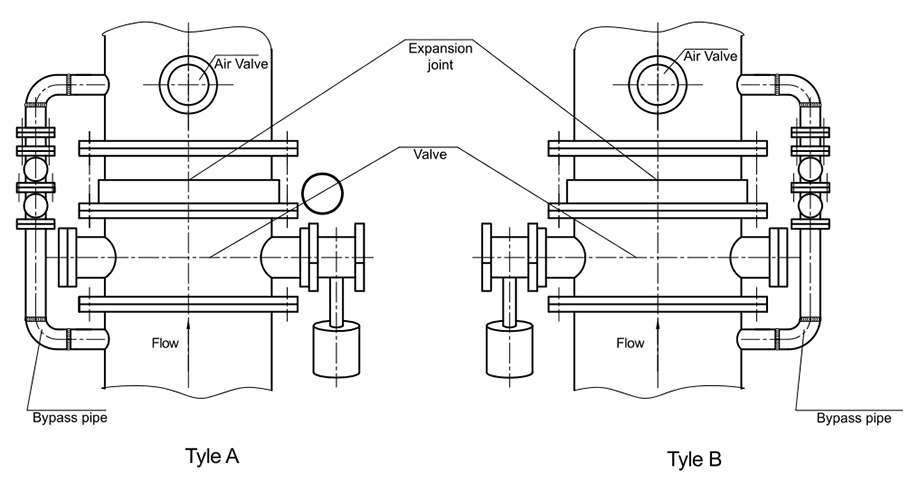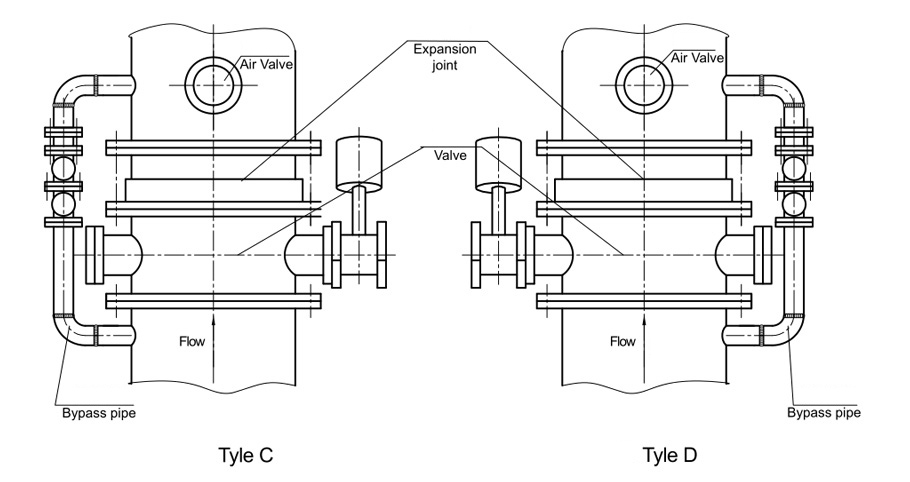 Installment and Arrangement Styles of Turbine inlet spherical Valve
Description for Order
For your convenience, please mark out product name, type and specification, product technical and performance parameters, product technical standards, material and standards of main components. Completed equipment including expansion joint, upstream and downstream connecting pipe, type and size of bypass valve and air valve, installation type and other special requirement. According to your requirement, we can also provide other wearing parts such as seal ring, packing combination ring and so on.
Inquiry
Prev:No Information!
Next:No Information!